(Skip ahead to Troubleshooting Tips)
Set up the phone
The following instructions will help you set up the Yealink phone and allow your phone to work in conjunction with Skype for Business on your computer. (The T55, 56, and 58 models are setup the same way.)
To set up in you will need the following:
Yealink phone
2 Network/Ethernet cables
Connecting the Phone
Connect the network cable from the wall into the phone port labeled "Internet"
Connect the network cable from your computer's ethernet port to the phone port labeled "PC"
The network jack on the wall should have Power over Ethernet (PoE), which means it delivers power AND a network connection using just one port/jack. If you connect the phone to the wall and it does not power on, please try a different port, then contact the CTD Help Desk if the issue persists.
Signing into the Phone
There are a few different ways to sign into your phone, but the easiest way is the following:
**ESSENTIAL STEP** Ensure that the Skype for Business application is open and signed in on your computer.
Once the phone is plugged in properly, wait a few moments.
Eventually a logon popup will appear. Please enter your full email address into

both

the Sign-in address

and

User name fields, enter your password into the Password field, then click 'OK'.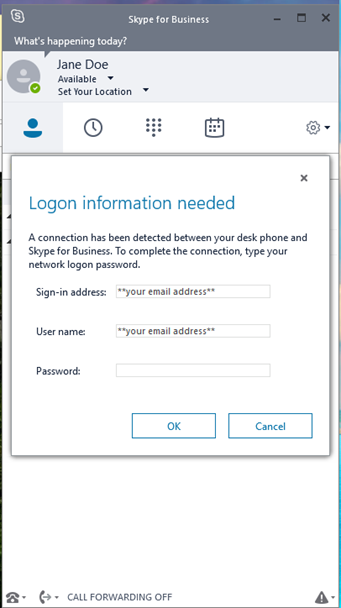 Now you're all set!
---
Troubleshooting Tips
Need to switch from previously signed in user / How to Sign Out
If the previous user is still signed into the phone, you need to sign out of their account first:
Tap their profile icon at the top right corner of the screen.
Tap Sign Out.
Repeat the steps above to sign into the phone.
No keyboard to type names
Tap once on a search bar to activate it, then tap it again to bring up the on-screen keyboard on your Yealink's touchs screen.
Can't search contacts
If your contacts aren't showing up, please follow the above instructions to Sign Out of your phone, then when you sign in, make sure to enter your full email address in the Sign-in address and User name fields (do not leave it with the DOMAIN\username format).
Please contact the CTD Help Desk if you need any further assistance.