Contents
Overview
Because Microsoft Teams, SharePoint, and OneDrive are often interconnected, it's important to know the differences and how to navigate between them, especially if you are concerned about data and document privacy.
Microsoft Teams
Microsoft Teams is a communication app that is connected to SharePoint and OneDrive. With Teams, you can start conversations with individuals and groups, you can have threaded conversations within Channels, and you can host and join audio or video calls, as well as live streaming events. You can also share and collaborate on documents connected to SharePoint and OneDrive document libraries directly from the Teams interface (which is where the lines between the apps start to blur, as they integrate with one another).
SharePoint
SharePoint is basically an "intranet" - an internal hub of information. Unless you are especially SharePoint savvy, we suggest primarily using it for its document libraries. It's best used for long-term document storage plus collaboration.
While we recommend just using the Teams app, which incorporates document libraries located on a SharePoint site, it's useful to know how to navigate both in case you end up on one or the other.
TIP: SharePoint is particularly useful in accessing document versions or version history, which you cannot do directly within the Teams app.
Accessing a Channel's SharePoint document library from within Teams
Below are three routes that will get you to the same destination: A Channel's document library in SharePoint. Choosing any option in Teams to "Open in SharePoint" will open the destination page in a new browser window.
Here's an example of what a typical document library looks like in a SharePoint site. This is your destination, should you wish to go there: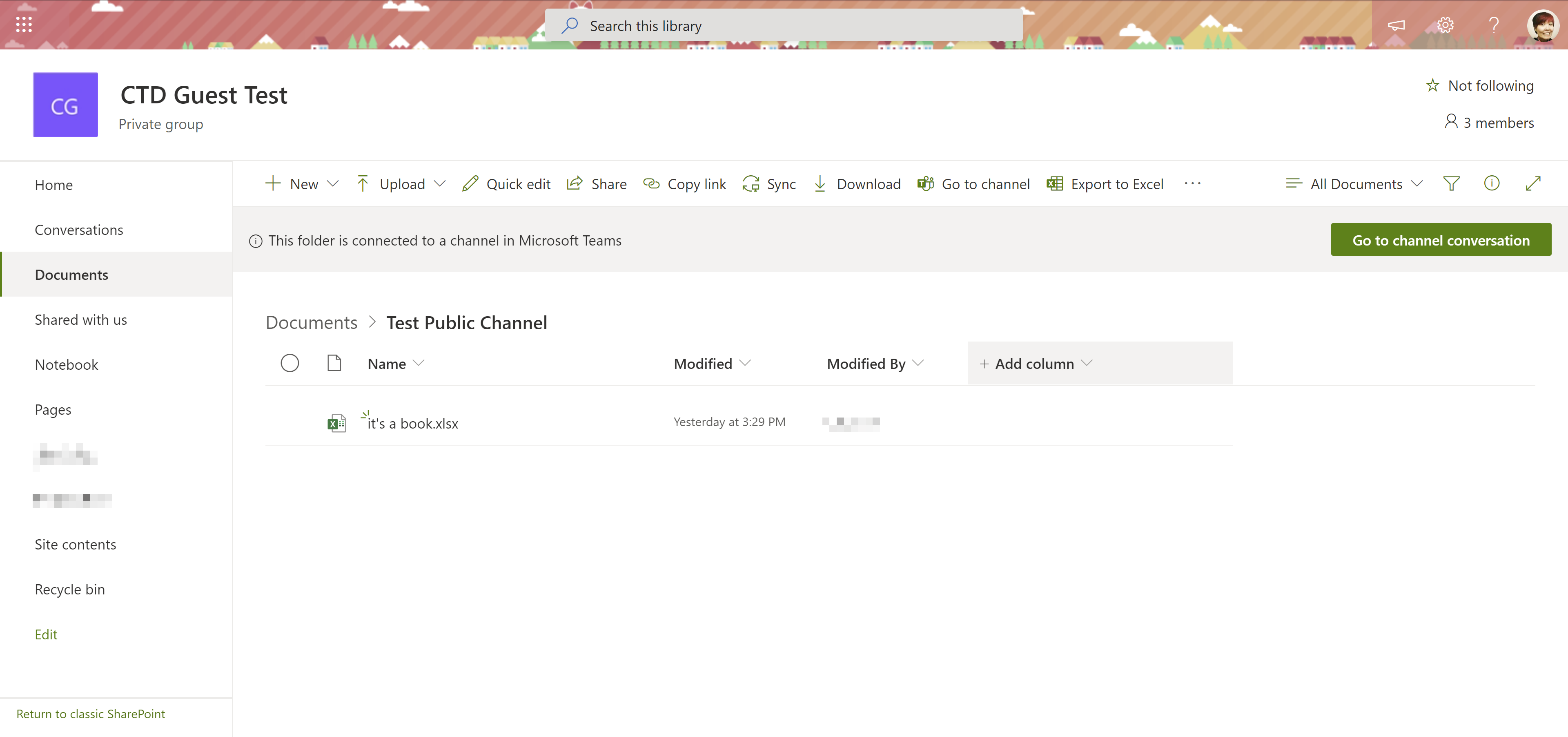 You will want to note the Go to channel conversation button at the top right. Clicking this will take you back to the Channel within the Teams app. Now you're on your way to being a master of the Microsoft app seas!
NOTE: Guests will notice they don't have access to everything they see on a page, such as the Conversations tab. This is an expected limitation of guest accounts.
Route 1
In the below screenshot, we click the "..." options menu at the top right of a Channel, then select Open in SharePoint.
Route 2
In the below screenshot, we navigated to a Channel's Files tab, which is synonymous with the Channel's "SharePoint document library". We can click Open in SharePoint in the main menu of the Files tab.
Route 3
In the below screenshot, we click the "..." options menu next to a document, then we can click Open in SharePoint.
OneDrive
Microsoft's OneDrive is your personal cloud storage solution. It functions similarly to DropBox or Google Drive. The files are for your eyes only until you choose to share them with others. What blurs the lines a bit between OneDrive and SharePoint is that their interfaces look very similar.
A OneDrive is a document library accessible only to the owner of the OneDrive. The owner can manage sharing permissions for specific files and folders when sharing out to other internal and external users. OneDrive is great for short-term collaboration and projects.
A SharePoint site is an intranet that can contain document libraries. A SharePoint document library is great for long-term storage and collaboration.
Teams is an app that connects to SharePoint and OneDrive document libraries while also giving you tools to improve communication and collaboration.
Note: Guest users in Teams may or may not have a OneDrive account.
How do I access my OneDrive?
Like with SharePoint, there are many ways to access your OneDrive account:
Sign into OneDrive via browser here. Once logged in, you'll see something like this:

If you're on a newer Microsoft Windows computer, you'll see a OneDrive option in your File Explorer navigation pane. You can click this, then sign into your OneDrive account and access your cloud-synced files from there.
Within the Teams desktop or web app, you'll see OneDrive in your Files tab.

It's important to note that within the Teams app, any files you upload, including screenshots or external GIFs, will automatically be uploaded to your OneDrive account. We encourage you to explore your OneDrive so you are fully aware of what to expect. If you have any questions, please reach out to the Help Desk.
---
Related: