Scenario
Let's say you're a high-level public affairs staff member and a lot of people call your direct work number. Or maybe there's an event and your number is listed as the main contact phone number. At any rate, you're expecting an overwhelming number of calls, so you need some assistance from your fellow staff members. To answer some of the questions you may have:
Can other staff members answer calls for me? Yes!
Can I forward Teams calls to a group of staff members? Yes!
Can I forward Teams calls to multiple staff cell phone numbers?

Technically yes

, but they will need to download and install the Teams mobile app onto their phones and sign into their work accounts.
Can I remove call forwarding to this Teams call group? Yes!
Can I forward Teams calls simultaneously to my cell phone and other staff?

Unfortunately no

. You can only do one or the other at this time.
Best of all, this is something you can easily do on your own in Teams. However, if you ever need assistance, if you have any additional questions, or if you need a more complex workflow, please let us know! For more complex workflows, we can create Teams call queues and auto attendants.
How to create a call group
At the top right of your Teams desktop app window, click on the "..." next to your profile icon and then click Settings. (Depending on your version of Teams, you may need to click your Profile icon, then click Settings.)



Navigate to Calls on the left side menu. Make sure Calls ring me is selected if you still want to receive calls alongside your call group members AND if you want to receive voicemails for any unanswered calls. Just below that next to "Also ring", select Call group from the dropdown menu.



Once you select Call group, a new window will appear. In this window, you can search for the names of your fellow staff members to add them to the call group. These staff will receive a call any time someone calls your work number.



From the "Ring order" dropdown menu, you can either select All at the same time or In the order above. If you select the latter, you will need to make sure you add staff to the list first to last, as there is no way to drag to reorder them at this time.



Once you've finalized your options, click Save at the bottom.
You can call your work number from your cell phone to test that this is working correctly.
Additional options
There are a few additional customizations you can make depending on your desired workflow, with some caveats.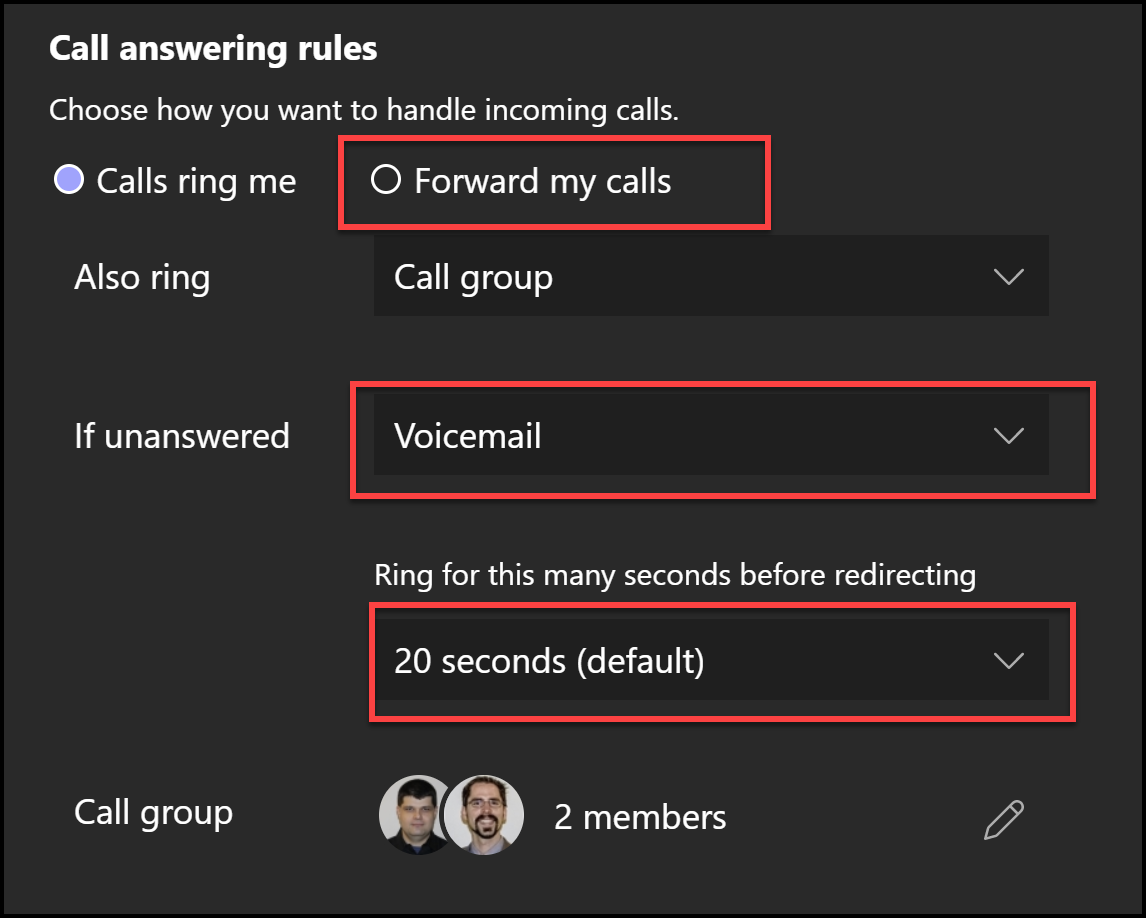 Forward my calls: If you don't want to answer any calls, you can forward your calls to a call group. However, callers will not be able to leave voicemail if their call is unanswered. It will simply hang up if no one picks up the call.
If unanswered: You can forward calls to the call group, then if no one picks up, you can forward the caller to your cell phone number. In that case, if you don't pick up, callers would be redirected to your personal cell phone's voice mailbox and not your work voice mailbox.
If unanswered ring time: You can also select how long a caller has to wait before being redirected to the "If unanswered" option.
!! Please be aware of the following !!
If this is for an event where you and your staff will not be at your computers, you will need to make sure you have the Teams mobile app installed, and you will need to sign into your work account.


When using the Teams app on your mobile device, there are many uncontrollable variables at play that can cause call issues, such as WiFi calling vs. data, your cell phone's connectivity to your provider's network, network availability, operating system compatibility, etc.


If you have any data restrictions, please note that the Teams mobile app does use up mobile data.

You can adjust the Teams mobile apps settings by tapping on your profile icon, then tap Settings. You'll see options like Data and storage, where you can adjust how it handles data usage. You can also adjust your Notification settings (note that there are a few Block notifications options that you will want to make sure are turned off when necessary).
One other very technical item to note: Let's say your call group includes Lin, but Lin has her own call group that includes Barry. If someone calls you and your call group, Barry will not get that call even though A) Lin will get a call and B) Barry is part of Lin's call group. Basically, there's no need to worry about an unmanageable web of call groups.
How to stop forwarding Teams calls to the call group
Navigate back to your Teams Settings > Calls.
Select your newly desired options, such as the default: Calls ring me and no one else, then if unanswered, caller is redirected to voicemail.

---
Again, for more complex workflows, we can create Teams call queues and auto attendants. Typically we need at least two weeks' notice for planning and implementing these more complex workflows, so please plan accordingly.