This guide will first summarize the quick shorthand steps and then after that give more detailed step by step instructions with screenshots.
Shorthand steps: Sign into office.com and OneDrive. Make sure you're in your OneDrive "My Files" area. Create a new folder in your OneDrive. For shared (that is shared with someone outside the org) OneDrive folders it's recommended you name the folder according to how or with whom you will share it. Right click on the new folder, choose Share, and paste the email of the person outside the org you wish to share with. The other person will receive an email message in their inbox about the newly shared folder and can use that link to sign into it.
Please note for the purposes of this guide, a random name and email "Gi Yawa" giyawa6719@donmah.com were chosen for demonstration purposes. The name and email were generated at random by a computer.
Detailed step by step directions:
Use Edge go to office.com and sign in. Click on your OneDrive icon: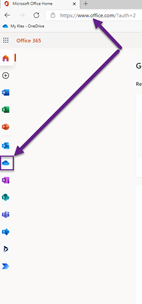 Make sure you're in your OneDrive "My files" area, choose New, then, Folder:
It's recommended you consider naming the shared folder with some wording that reflects it's a private folder only to be shared with one other guest, or several guests, etc. This will make it clear later on that you shouldn't just automatically by accident share it with a number of other outside-the-org folks you didn't mean to:

Right click on the folder, choose Share, and type or paste the email(s) of the people outside the org with whom you wish to share. In most cases the default permission settings of "People you specify can edit" will be enough to limit access. If you think there's a need for different permissions, please email the help desk:
Add an optional message and click send if you like. The help desk recommends you will already have sent a separate communication or phone call to the person since just this invite alone without any other context could possibly look like spam to them:
You will see a brief message of sending mail and the a confirmation that the sharing link was sent: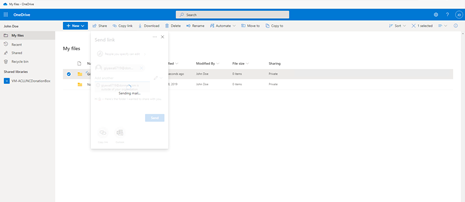 The other person will receive an access link in their inbox. They will need to click on it and follow any needed follow up steps such as authenticating with a numerical code send to their email, or accepting the orgs sharing policy.